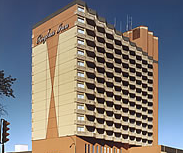 Welcome to the Regina Inn Hotel and Conference Centre. Since 1967, our long standing experience in hotel accommodations has labeled our hotel a true Regina landmark. For many, it has long been regarded the cornerstone of the city skyline. Towering above the landscape, the hotel sits proudly nestled in the heart and soul of the city. With business, shopping, theatre, a casino and government offices nearby, we are a focal point for the community.
Our hotel features 235 spacious guest rooms and over 20,000 square feet of meeting space, including a theatre-style room which can hold 600 people. As a true partner in the community, the Regina Inn Hotel and Conference Centre continues to host events including weddings, corporate meetings, reunions, and welcomes guests from around the globe. We offer customized catering packages and outstanding service for groups from 6 to 600.
With a restaurant, lobby lounge and Café-Xpress, guests continue to meet old and new friends here. For a night of live entertainment and a memorable experience, attend our Applause Feast and Folly Dinner Theatre. From comedy plays to musical reviews you will participate in the exciting events that unfold throughout the evening.
The Regina Inn is also committed to the environment. We hold a 3 Green Key Rating from the ECOmmodations Rating Program, which is given only to those hotels who have shown national industry leadership in terms of environmental performance.
With all of this to offer and more, join us for a unique experience at the Regina Inn Hotel and Conference Centre, where we will meet and exceed your expectations.